Opening a salon of your own requires you to be in charge of the décor. Here are 25 creative nail salon design and decorating ideas for your inspiration.
It's up to you to create a space where your customers will feel comfortable. But, it's equally important to make sure that your workspace is a perfect fit for you personally. Once you have a design that you love, you'll look forward to coming to work.
There are many different designs you can choose from. Choosing the right colors, furniture, and decorative items can be fun as well as useful.
However, there may be budget constraints to take into account. After you buy the equipment you need and take care of advertising, you might have to cut corners on the décor. Here are some elegant and affordable design ideas that can help you get started.
Table of Contents
Choose a Theme
Some nail salons go for restraint, while others are more cheerful. Some salon owners like to stick to a specific color scheme, while others prefer to mix things up.
You should follow your taste when you decide on a theme. It's also a good idea to make sure the theme matches your logo and the style of your advertising.
At the same time, keep your customers in mind. Will they feel welcome when they step through the door? Is your theme fun or a little overwhelming?
Your salon needs to be an excellent place to relax. Additionally, it needs to look tidy and hygienic. Since you want your customers to feel at home, you should make sure your theme isn't offensive. For example, it's best to avoid cultural symbols or any religious item.
But what are some great themes that you can go for?
Classy and Restrained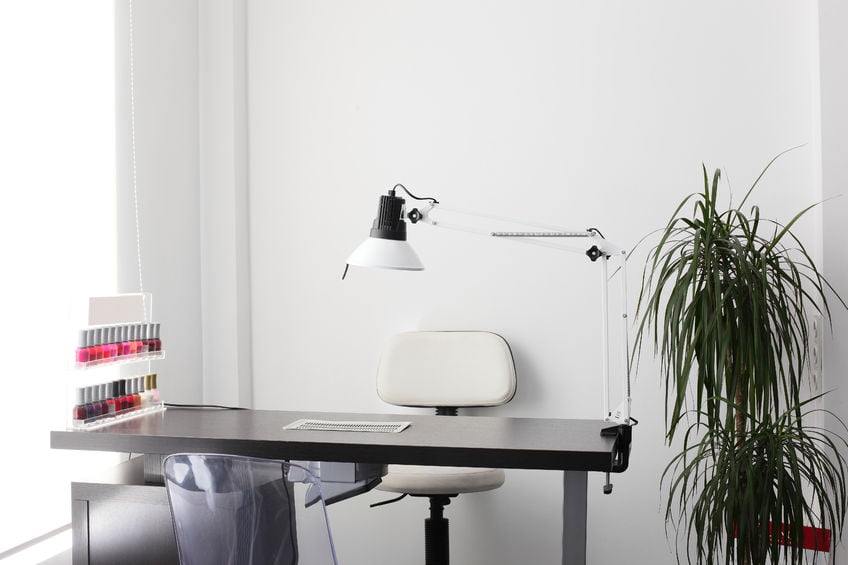 If you want your salon to look modern, it's a good idea to go for a minimalist design. Go for white and metal furniture. Choose marble and ceramic for your floor and your equipment. Make sure the salon is very well-lit.
This style is a good choice if you're aiming for a well-off clientele. However, you may have to spend quite a lot to achieve the right look.
Cheerfully Feminine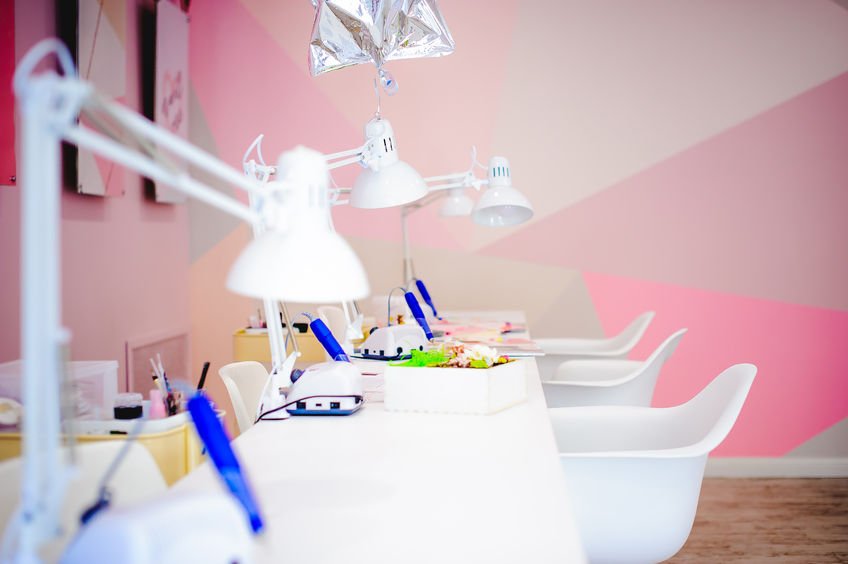 If you like floral designs, you can combine them with drapes and some simple, rustic furniture items. On the other hand, you can also go for an opulent look with large mirrors and interesting overhead lights. You can choose pastels or jewel tones, make sure that your design choices don't clash.
Simple and All-Natural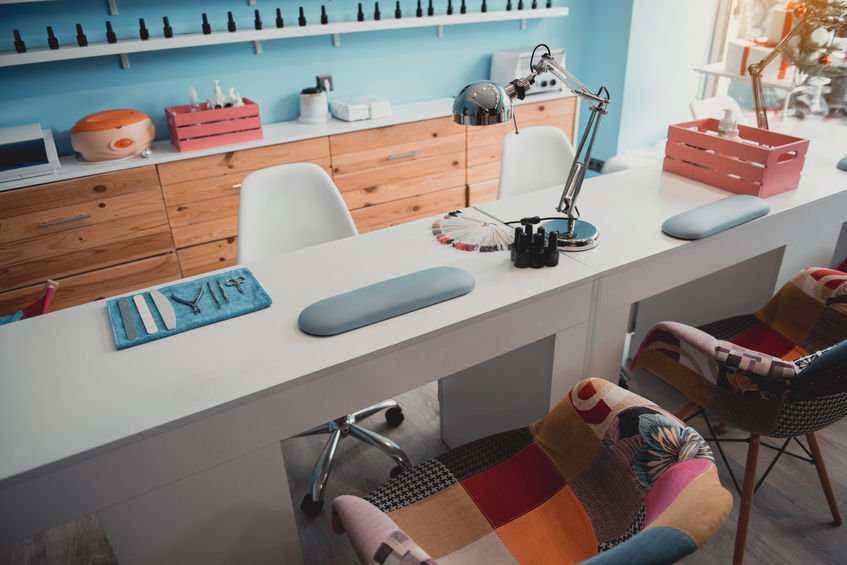 If you have a hardwood floor, it can be a good idea to complete it with matching furniture. Bamboo items can be a great choice for a nail salon. Combine white with browns and beiges.
If this is the vibe you want, a fountain can be a fitting and memorable design choice. However, keep in mind that some clients may find the sounds distracting.
Retro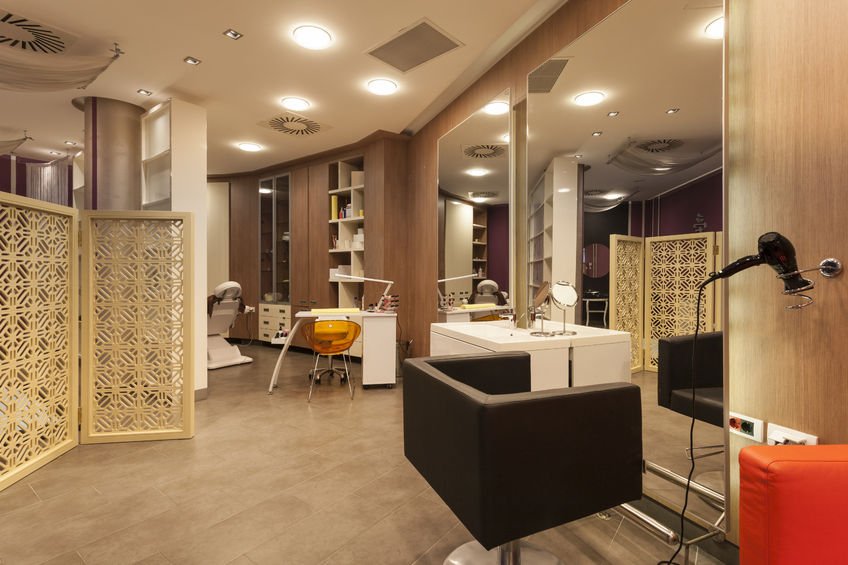 Bold primary colors are a great pick for a retro salon. You can stick to a particular decade or mix things up a little.
But if you decide to go for a retro look, there is some chance that your salon might look dated. To avoid this, you should make it clear that the retro décor is intentional.
Once again, posters are an excellent choice, as they can make it clear what style you're aiming for. You can even purchase a disco ball or authentic paraphernalia from your chosen era.
Futuristic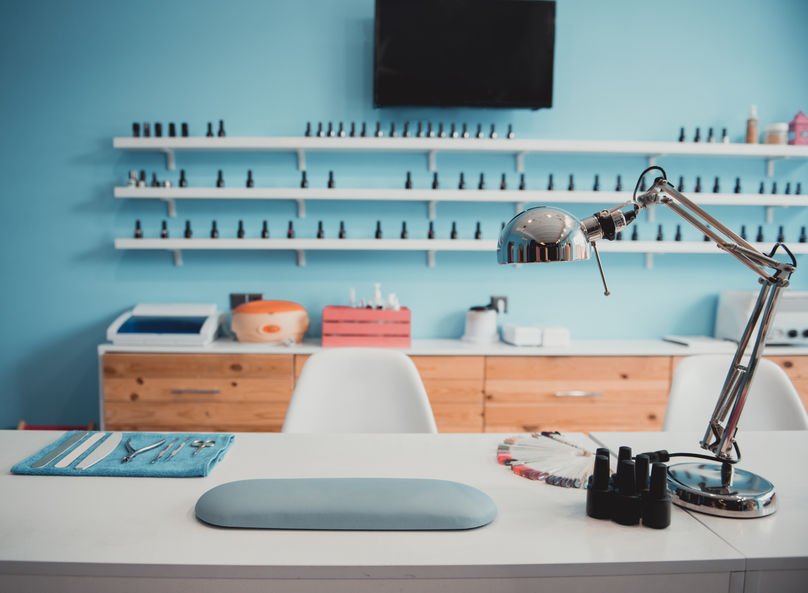 This is another style that features decorative metal items. You can combine it with a retro style, or you can stick to modern, minimalist furniture and galaxy prints.
Punk Rock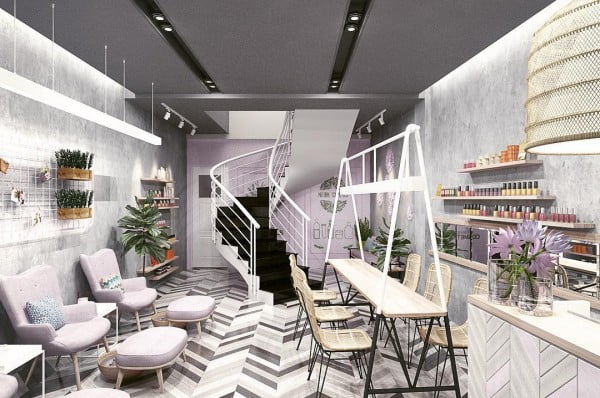 Giving your salon a punk rock vibe is an excellent option if you expect a younger customer base. Bold colors and neon decorations can be an excellent option. You can also use your favorite posters or band merch to spice up the place.
But if you decide to go for this look, you still have to make sure there's good lighting. Salons that feel too dark are challenging to work in. They're also unlikely to attract repeat customers.
A Display Wall of Nail Polish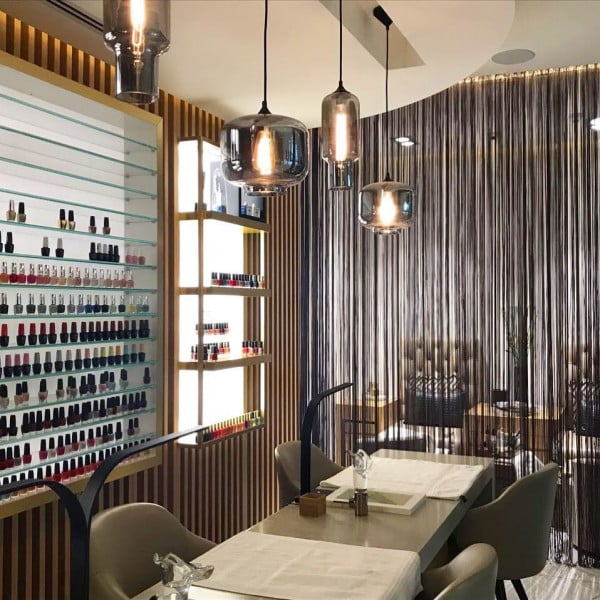 Show off what you have. A display wall of nail polish has a distinct, colorful decor accent that you can use. Talk about decorating with what you already own!
Wall Letter Art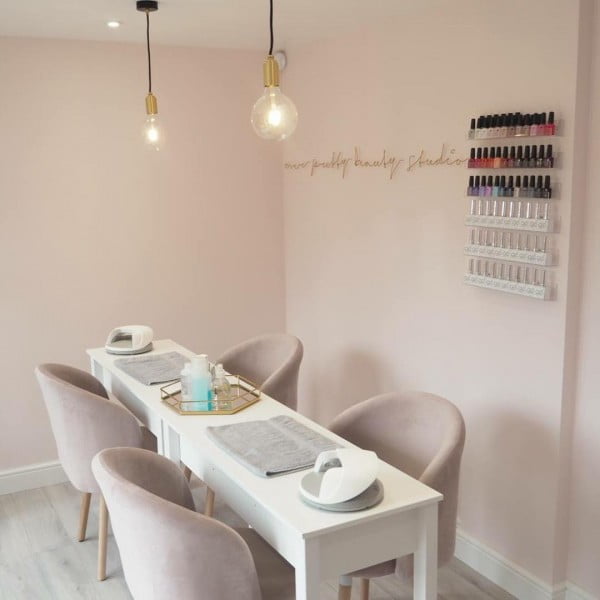 If display shelves for nail polish aren't enough, add more to your nails salon decor with wall letter art. It's a simple yet powerful way to bring your message across in a visually appealing way.
A Bright Accent Wall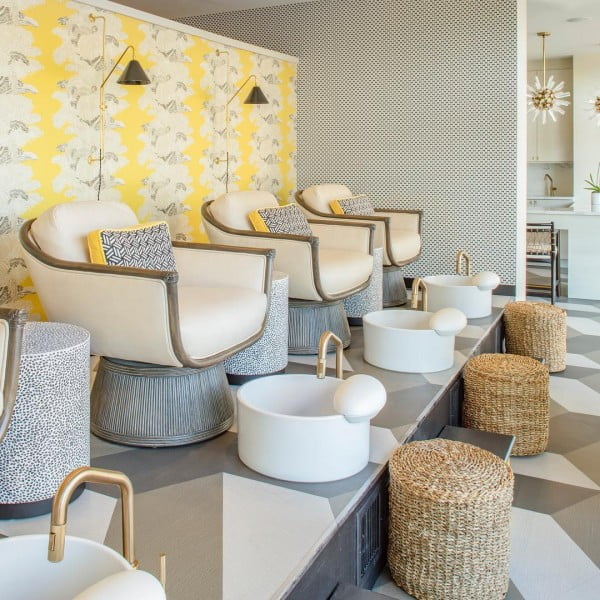 Color is so essential in nail salon design and decor because that's what nail art is all about. Some bright wall accents will do a great job to make your working space much more exciting and appealing to your clients.
Brass or Gilded Accents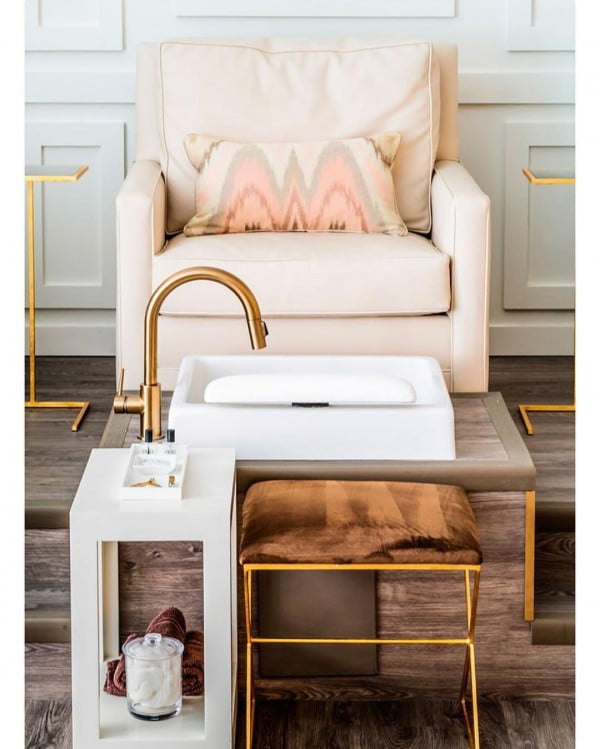 Adding brass or gilded accents throughout your nail salon is a great way to create a luxurious look. If that's the kind of clientele, you're after then definitely consider switching your faucets, chairs or tables to brass hardware.
Art Deco Accessories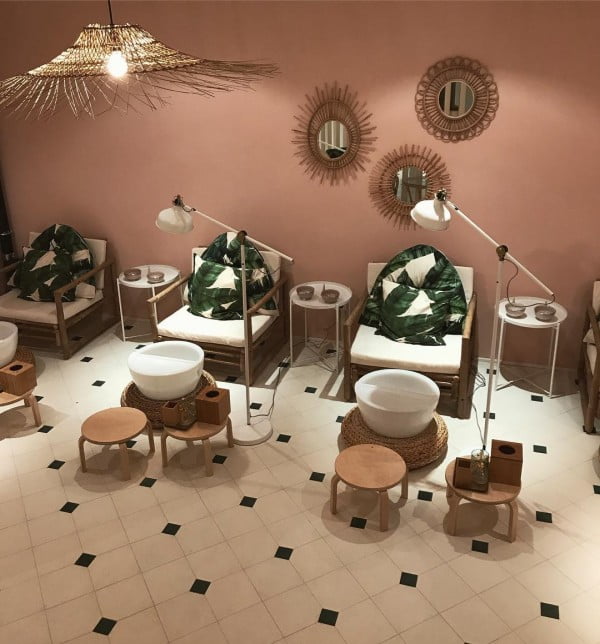 Yes, art deco has a place in nail salon decor, and you can easily add more charm to your place with a sunburst mirror frame or two. Don't be afraid to experiment!
Scandinavian Design Elements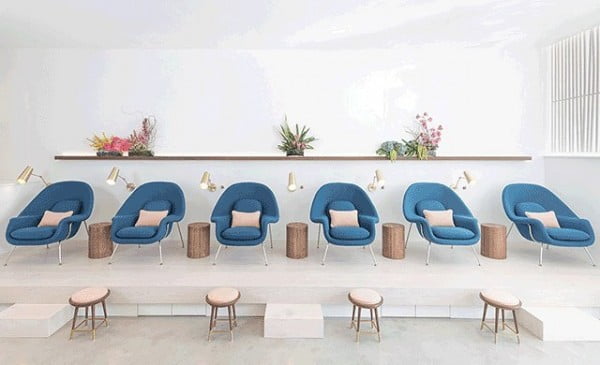 Scandinavian design is all the hype in the interior design. So you can do well including some elements of it in your salon. It can be as simple as adding wooden stools and rustic shelves to it.
More Natural Wood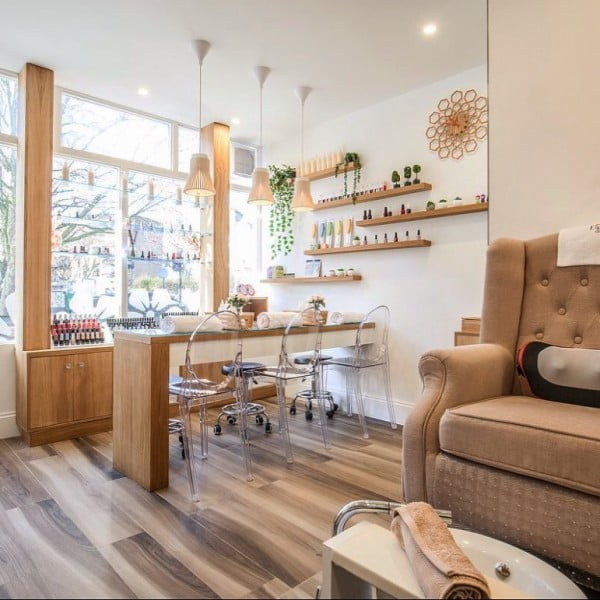 Using natural wood to design and decorate your salon will, of course, make it more inviting and cozier. It's a great way to make your clients feel like home.
Oriental Decor Accents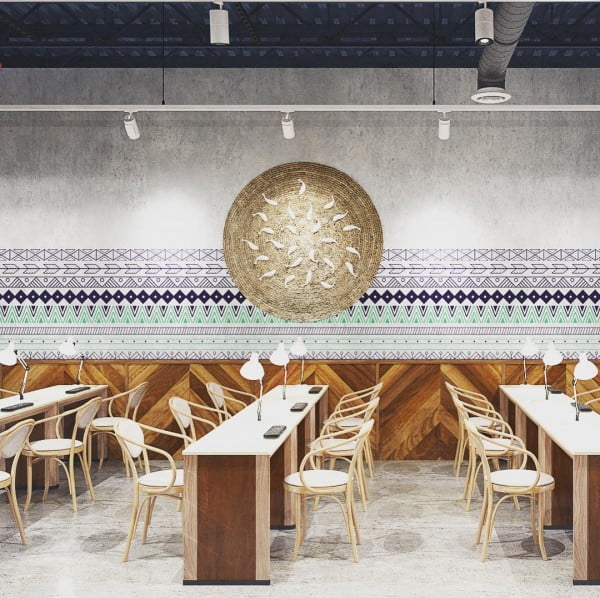 If you want your nail salon to look more original and creative, use some Oriental decor accents. It can be anything from accent wall patterns to big statement art.
Industrial Nail Salon Design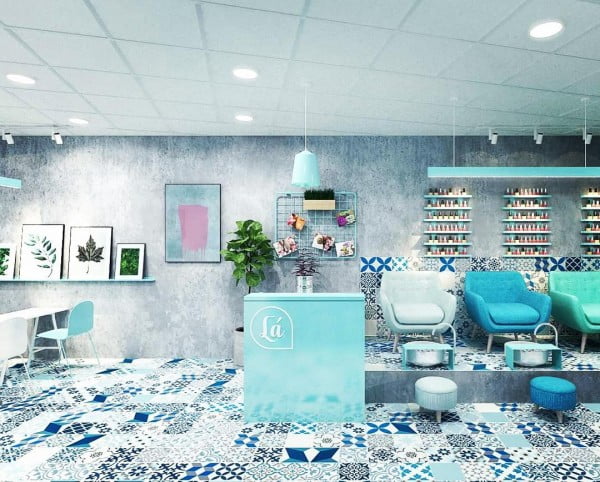 The industrial design style is trendy, and it can help you create a boho vibe in your salon. If that's what you're after, try the raw concrete wall look with interesting mosaic floor tile.
Acrylic Furniture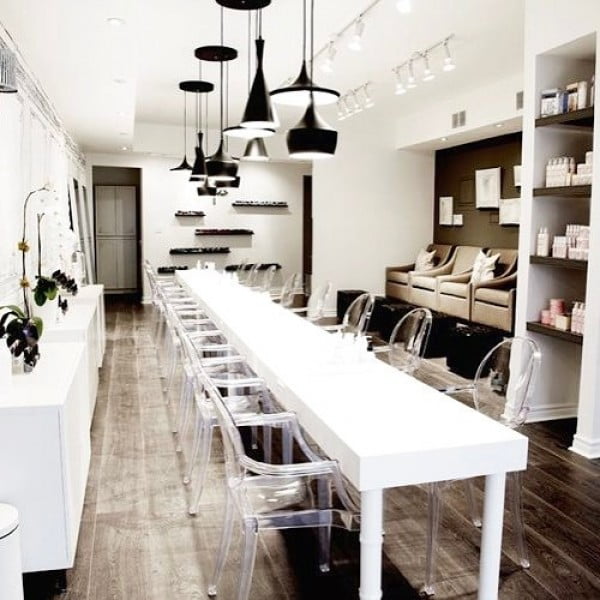 Acrylic furniture help add some elegance to the place. Use it if your salon design is going for a classic, elegant look.
Wall Murals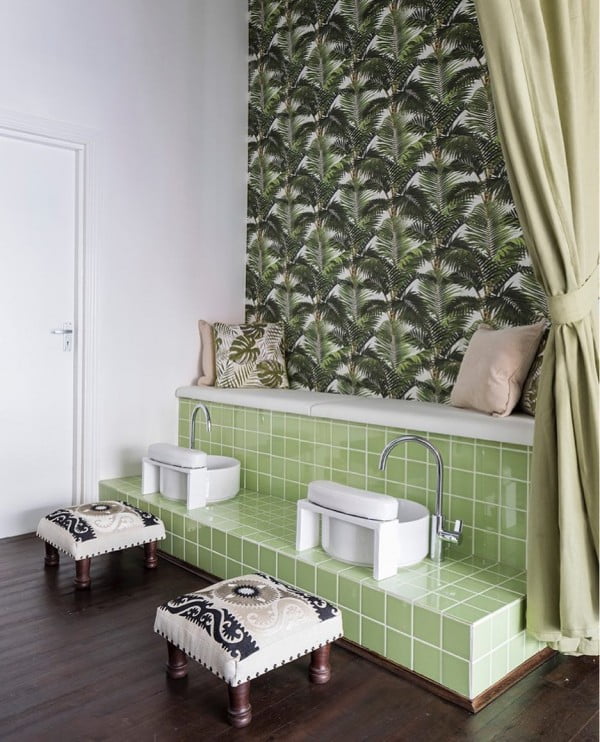 Murals are very prominent, and they can make a brilliant focal point of the entire salon. So choose carefully – it's an investment that can make or break your salon decor.
Traditional Elegance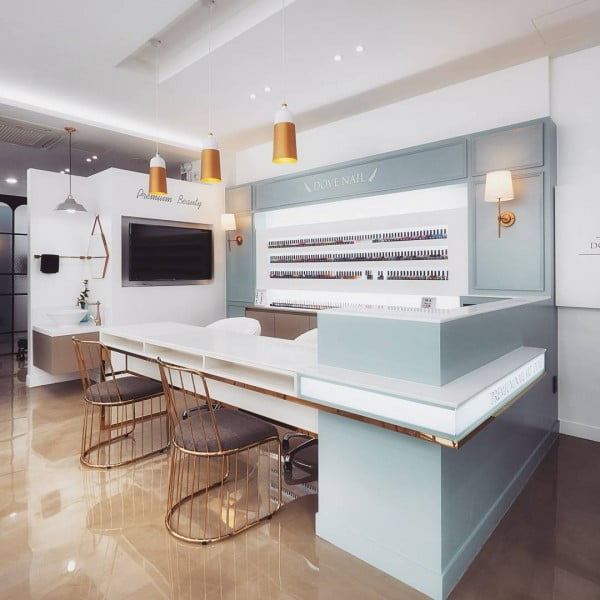 Traditional design can be very elegant and sophisticated, especially with the smart use of color. This mint green with brass accents looks very attractive.
Exposed Brick Walls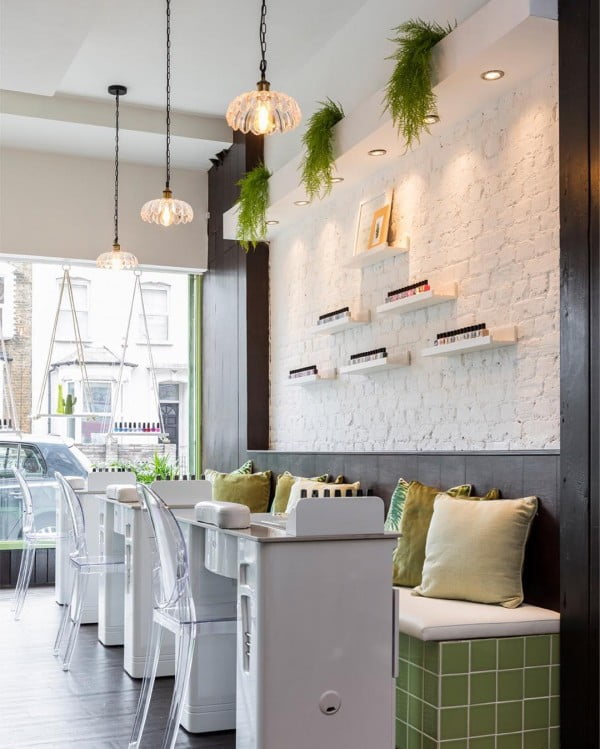 Exposed brick walls are a technique used to create more visual interest in a room, and they make a subtle urban accent. It's a great way to make your salon look city-like and still maintain its identity.
Eclectic Floral Furniture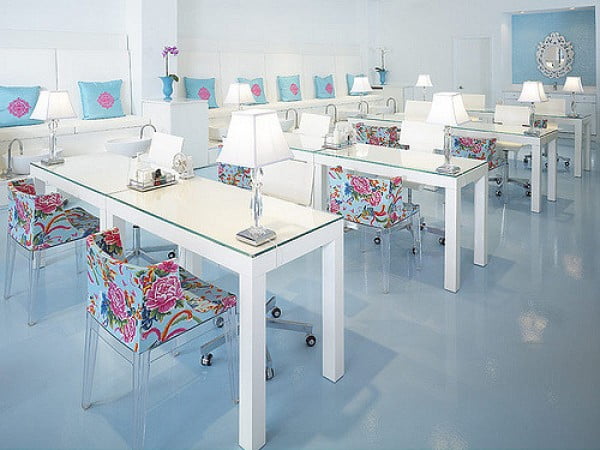 The eclectic style works in nail salon design because it helps bring the message across. It's inspiring and challenging the mind — something to consider in your salon.
Statement Ceiling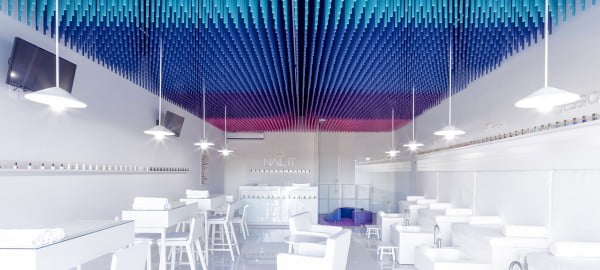 When everyone is concern about decorating the walls, here's your chance to be different. The ceiling is the forgotten wall, and you can make an accent of it. You don't have to be so bold, but some embellishments can go a long way.
IKEA Inspired Nail Salon Design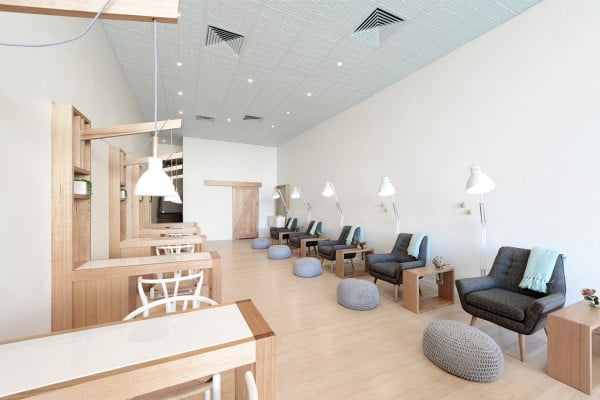 You can pick up some beautiful items from IKEA to decorate your salon. It's an easy way to add some Scandinavian minimalist charm to your space.
Marble Tabletops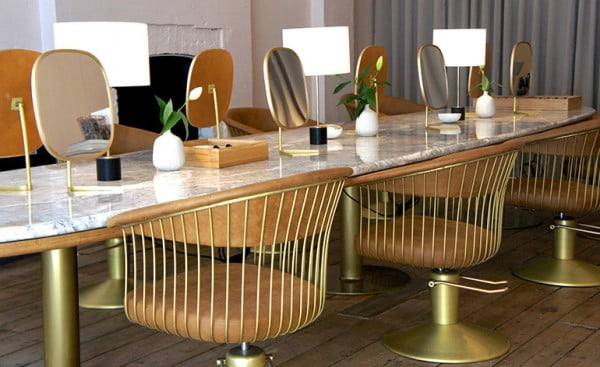 If your nail salon is about luxury, then you need to consider marble countertops. They go well with brass hardware too. Your clients will feel the VIP treatment they deserve, in this kind of decor.
Zebra Patterns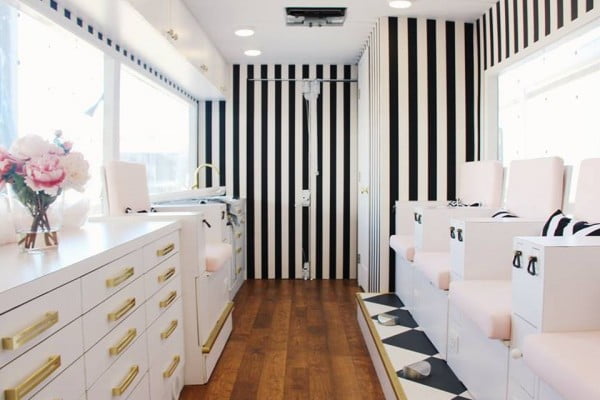 Use zebra and checkered black and white patterns to create a classy look. It goes well with white furniture and brass hardware. Add fresh flowers to keep space vibrant all the time.
Use Posters Creatively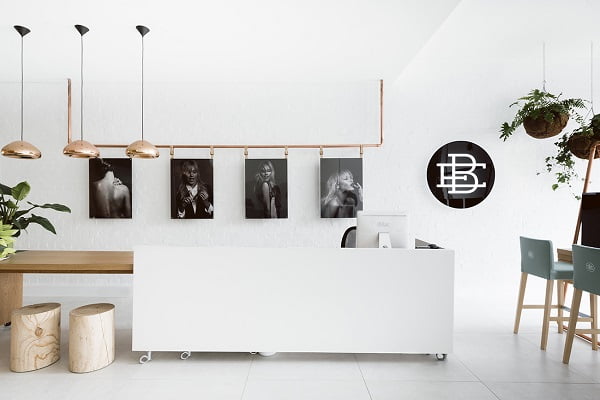 Posters are charming if they are used creatively. For example, black and white prints are not intrusive, and they make stylish wall decor.
Do All You Can to Avoid Clutter
While finding the right lamp, statue or vase can hold your theme together, too many decorative items can create a cluttered and claustrophobic feeling. Additionally, it's much easier to keep your salon in order when there are fewer items to clean and rearrange. Dust or clutter will make your workspace seem unprofessional, even if you keep your work equipment in top shape.
Use the Space You Have
Make sure there are enough shelves for all of your equipment. Keep some empty storage space for future purchases. This will give your salon a professional vibe, and it will also make it much easier for you to work.
There are other ways to make a cramped space appear larger. Mirrors are a good idea. When it comes to decorating your walls, stick to a few eye-catching pieces. Avoid decorations that take up too much space.
Make Sure That the Waiting Area Is Comfortable
Even if you have a limited space to work with, you have to make sure your customers have comfortable seating as they wait. Decorative pillows can add to their comfort, and you'll easily find a fitting pillow for any theme.
In addition to the seating, it's a good idea to get a coffee table with an attractive centerpiece. Don't forget to provide some entertainment for your clients in the waiting area. Booklets and catalogs are a good idea, as are current fashion magazines.
What About Plants?
Plants can purify the air in your salon, and they can help create a peaceful mood. But only go for plants if you're willing to care for them. A wilting plant would look highly unprofessional.
So which species should you go for? Succulents are easy to care for, which makes them a popular choice. You can also choose a peace lily, which looks very elegant but doesn't require much work. If you want to add some color, azaleas can be a good choice.
A Final Thought
When you're just getting started, it's important not to overthink things.
Your salon is going to change as your business develops. You can always add new design elements as you go along. It's a good idea to redecorate once in a while. So follow your taste, and don't worry about making it perfect from the get-go.
Get the Complete Checklist of Opening Your Own Nail Salon!