These are modern salon mirror ideas for a stylish and inviting atmosphere in your salon. Read on!
Salon mirror designs are becoming increasingly popular in modern nail and hair salons. These stylish mirrors feature sleek, contemporary frames with polished chrome finishes and adjustable LED lighting to create a warm atmosphere.
Many salon mirrors also come with drawers, shelves, and cupboards for styling supplies, while others have curved edges or backlit LED lighting to provide a luxurious look. Adjustable height features offer flexibility when creating the perfect contrast between yourself and your reflection in the mirror.
Here are more ideas for you to use.
Personalized Design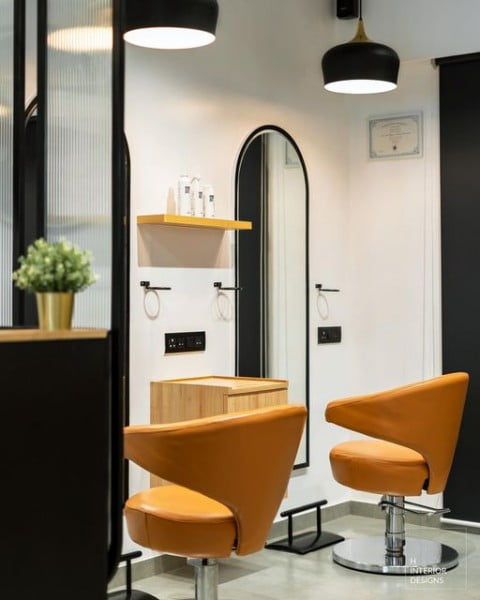 This luxurious salon mirror design is perfect for any modern spa or hair salon. It features a sleek, contemporary frame with a polished chrome finish that adds an elegant touch to the room.
The large rectangular mirror provides ample reflection space and maximum visibility when styling hair or performing facial treatments. The adjustable LED lighting around the perimeter of the frame creates a warm and inviting atmosphere while providing excellent illumination for detailed work.
This stylish mirror design is ideal for creating a unique, upscale look in any spa or salon.
Beauty Luxury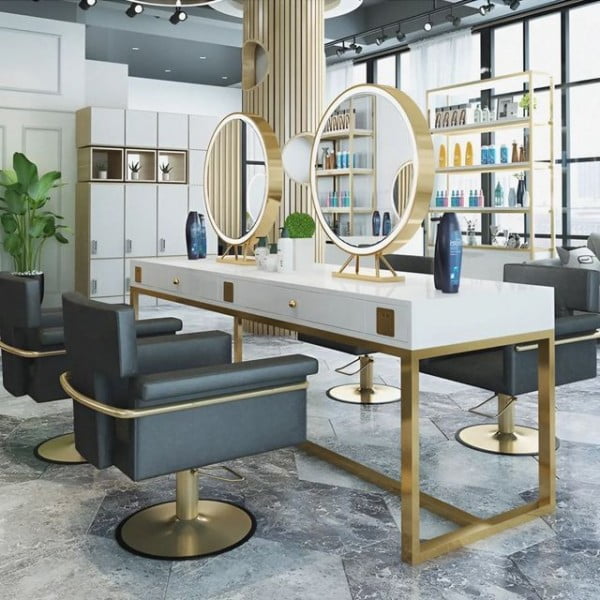 This modern, luxury salon mirror design features smooth lines and a sleek metallic frame. It has an innovative concept that provides just the right amount of light to make you feel beautiful while being easy on your eyes.
The adjustable LED lighting allows you to adjust the brightness and intensity to match your mood. With its contemporary look and feel, this salon mirror is perfect for any beauty or hair salon looking to make a statement about its design aesthetic.
The durable construction ensures that it will last for years, and its luxurious appeal will keep clients returning from time to time.
Curvy Mirrors
This modern salon mirror features a contemporary design incorporating sleek lines, cool accents, and minimal detailing for a timeless look. The gently curved edges provide an invitingly comfortable atmosphere, while a range of LED lighted mirrors shine brightly to illuminate the space.
A sturdy metal base ensures stability and functionality, allowing the salon mirror to blend in with its surroundings seamlessly. The durable yet stylish finish makes it ideal for any salon or barbershop.
It also has multiple drawers, shelves, and cupboards perfect for styling supplies, equipment, and other accessories essential for ultimate convenience. Finally, an adjustable height feature allows flexibility when wanting to create that perfect contrast between yourself and your reflection in the mirror.
Art Deco Inspired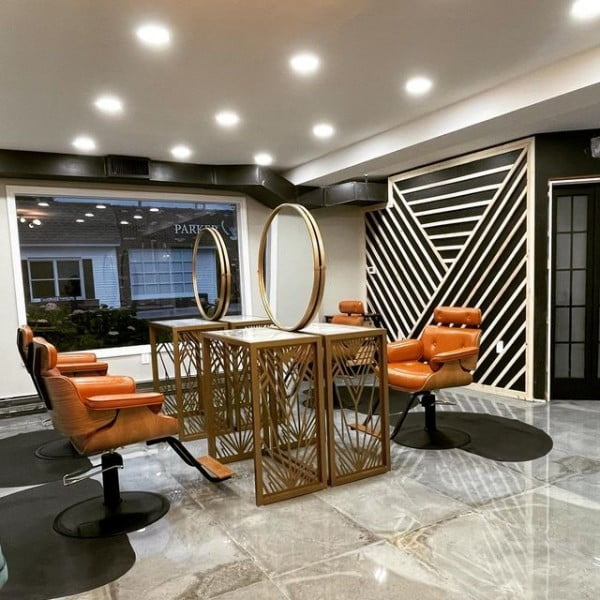 This art deco salon mirror is custom-made from aluminum and expertly welded for a sleek, modern look. Its design features intricate details that make it perfect for adding a touch of glamour to any hair salon interior.
The frame has an elegant matte black finish, while the reflective surface offers superior clarity and depth. The combination of art deco style and aluminum construction creates an eye-catching piece that will draw attention in any hair salon or makeup artist studio.
Luxury Design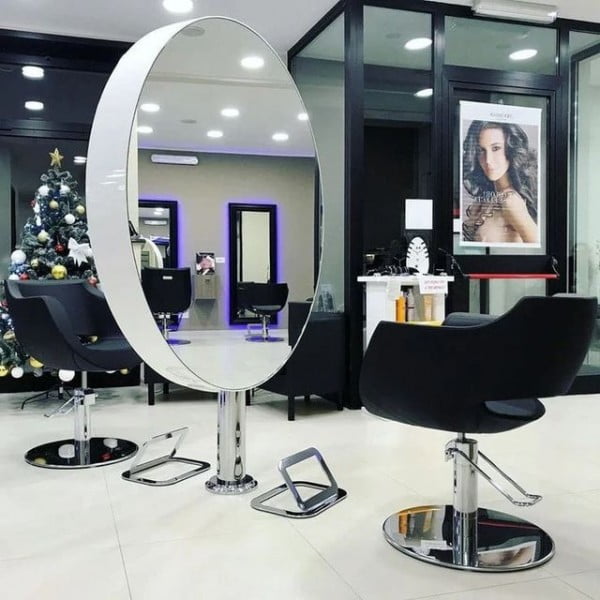 This luxurious salon mirror design is modern, sophisticated, and stylish. Crafted with luxury in mind, it features a sleek black frame adorned with crystal accents to add an extra sparkle of elegance.
The mirror's reflective surface helps open up space and create an inviting atmosphere in any salon or spa setting. It blends seamlessly into the overall décor and can be tailored to fit various sizes and shapes.
This design can also be part of a furniture set for stylists or hairdressers, offering comfort during long hours at their craft.
Giant Mirror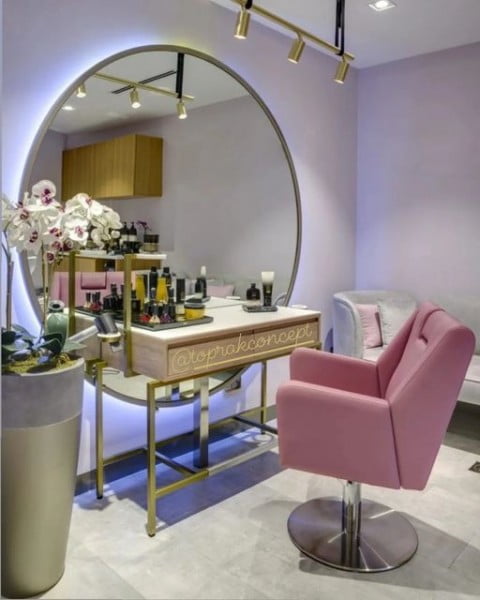 This salon mirror design features an elegant frame crafted from decorative mirror material with accents. The styling station is complemented by a giant mirror that reflects the lush hues.
Arch Mirrors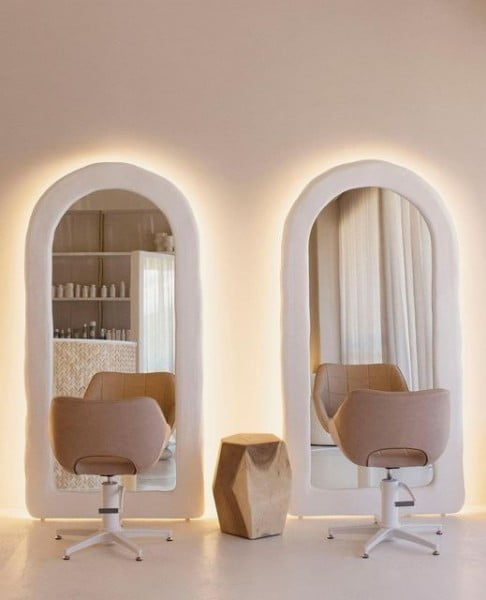 This salon mirror design is a perfect blend of modern and traditional elements. It features an arch-shaped frame made from white wood, with intricate Moroccan-style carvings along the edges.
The mirror is framed in a Santorini-inspired style, giving it a unique look that stands out from other designs. The neutral color palette of whites and neutrals gives this piece an airy feel, making it ideal for any room in your home or salon.
To complete the look, add some Moroccan floor cushions and vintage rugs to create a cozy atmosphere.
Luxe, Sophisticated, and Modern Salon Design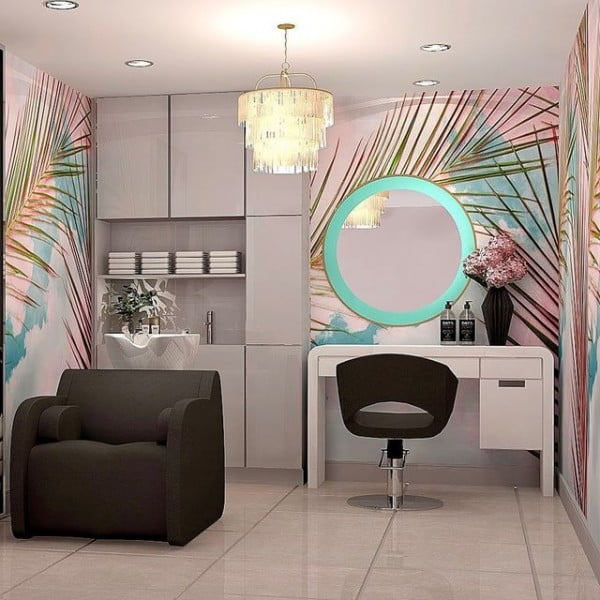 This modern salon mirror design features a sleek, minimalist frame crafted from Michele Pelafas's furniture. The reflective surface is surrounded by a warm, inviting atmosphere created by the salon interiors and behind-the-chair decor.
The perfect combination of modern and traditional elements creates an eye-catching look that will draw attention to any hair salon or interior design space. With its unique blend of style and functionality, this salon mirror is sure to be the centerpiece of any room.
Beauty Luxury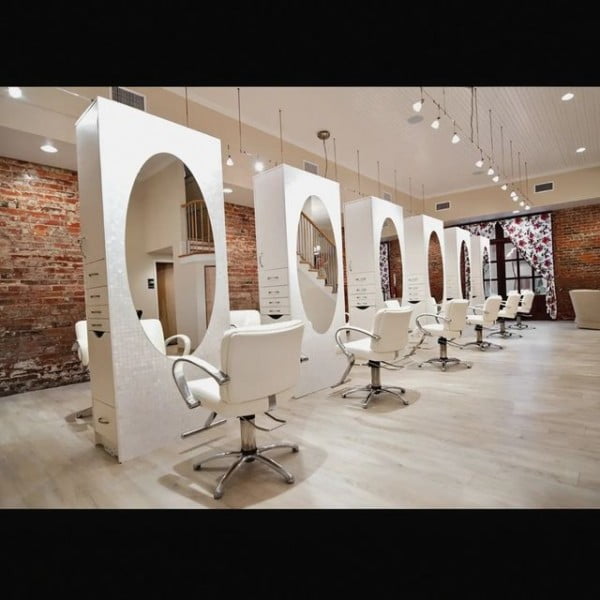 This modern salon mirror design combines luxury and function to create a sophisticated look for any hair salon. Crafted from sleek, durable materials, the mirror features an elegantly curved frame and adjustable lighting to showcase your clients' hairstyles in the best possible light.
The high-quality finish brings sophistication to any space, while the ergonomic design ensures comfortable use. The salon mirror is perfect for spas, salons, hairdressers, and more, offering stylish functionality and long-lasting durability.
Ivory Mirrors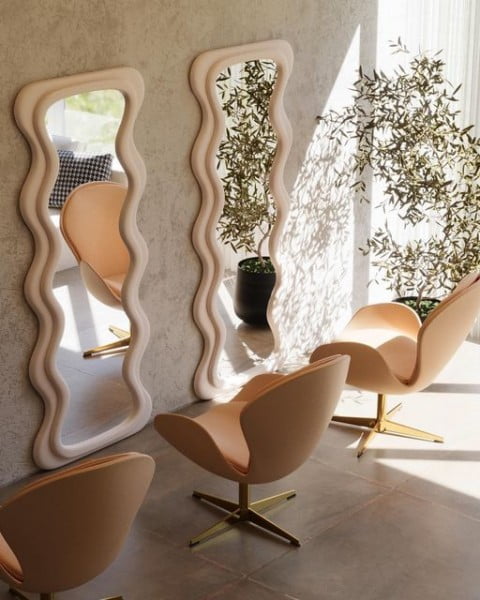 This salon mirror design is sleek and modern, with a beige frame that complements the neutral decor of any hair salon. The mirror is large and rectangular, perfect for reflecting light and creating a bright atmosphere in the beauty studio.
Its minimalist style adds sophistication to the interior design, while its commercial photography-grade quality ensures sharp reflections. With this stylish yet functional piece, your clients will feel inspired by their beauty as they admire their reflection in this luxurious salon mirror.
Repetition of Soft Shapes and Pop of Pink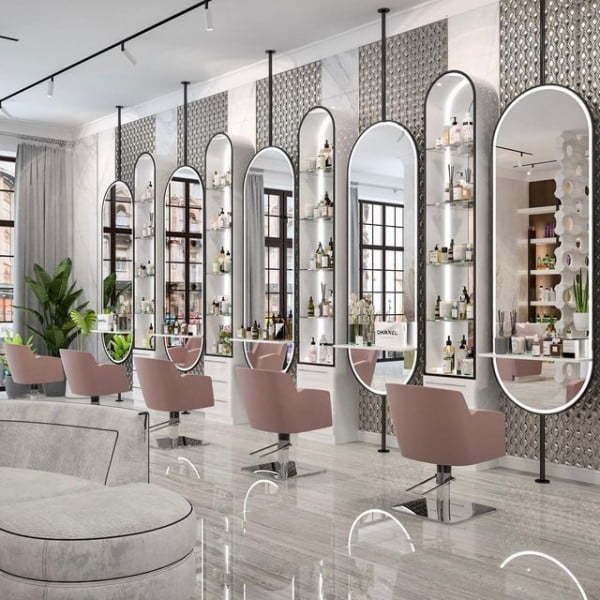 This modern salon mirror design is sleek and stylish. It features a glossy black frame with warm gold accents, making it the perfect addition to any luxury salon interior.
The top of the mirror is illuminated with LED lighting, creating an inviting atmosphere for guests. A shelf underneath provides additional storage space for styling products or other salon essentials.
The wide viewing angle ensures that clients can easily see themselves from every angle when getting their hair done. This sophisticated and chic mirror design will add a touch of sophistication and elegance to any beauty space.
LED Backlit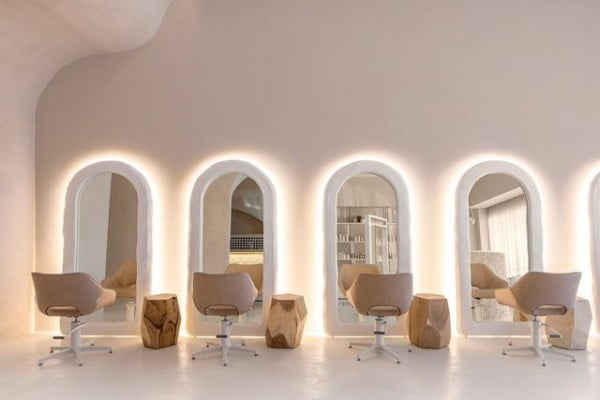 Backlit LED mirrors create a modern and inviting atmosphere and provide a functional purpose.
Nautical Round Frames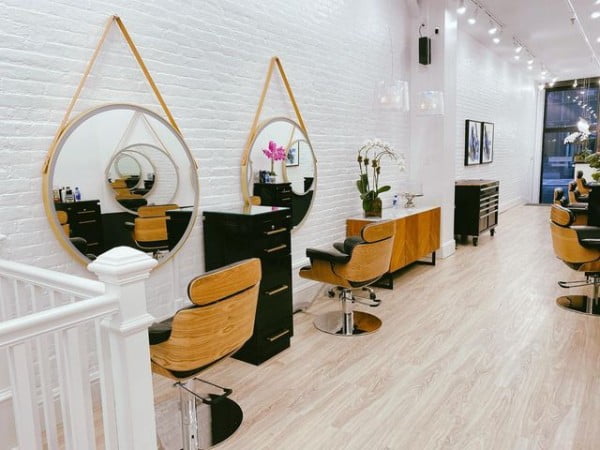 This sleek salon mirror design features a modern look, perfect for any beauty or hair salon. Its frame is made of polished chrome, and its reflective surface offers a clear view of the entire room.
It's sure to be an eye-catching addition to any hair or beauty establishment!
Get the Complete Checklist of Opening Your Own Nail Salon!