Understanding the psychological impact of colors can be a game-changer for your nail salon business, as it not only influences the aesthetics but also affects customer satisfaction and overall revenue.
Choosing the right color scheme for your nail salon can significantly influence your business's overall atmosphere and customer perception. While there are no universally 'good' or 'bad' colors, understanding the psychological impact of different hues can guide you towards making the best choice for your salon.
This article will delve into the science of color psychology, discussing which colors induce feelings of relaxation, cleanliness, and luxury—traits that most salon-goers appreciate. We'll also explore color combinations that might unintentionally send the wrong message to your clients.
With this knowledge, you can make an informed decision that not only enhances your salon's aesthetic but also boosts its business potential.
Key takeaways:
Certain colors can create a soothing atmosphere for customer satisfaction.
Coordinating color palette with salon's branding generates consistency.
Quirky nail colors can highlight salon's uniqueness for a fashion-forward clientele.
Keeping up with seasonal color trends displays salon's relevance.
Dark colors limit intricate nail art details and can make nails appear smaller.
Significance of Choosing the Right Nail Salon Colors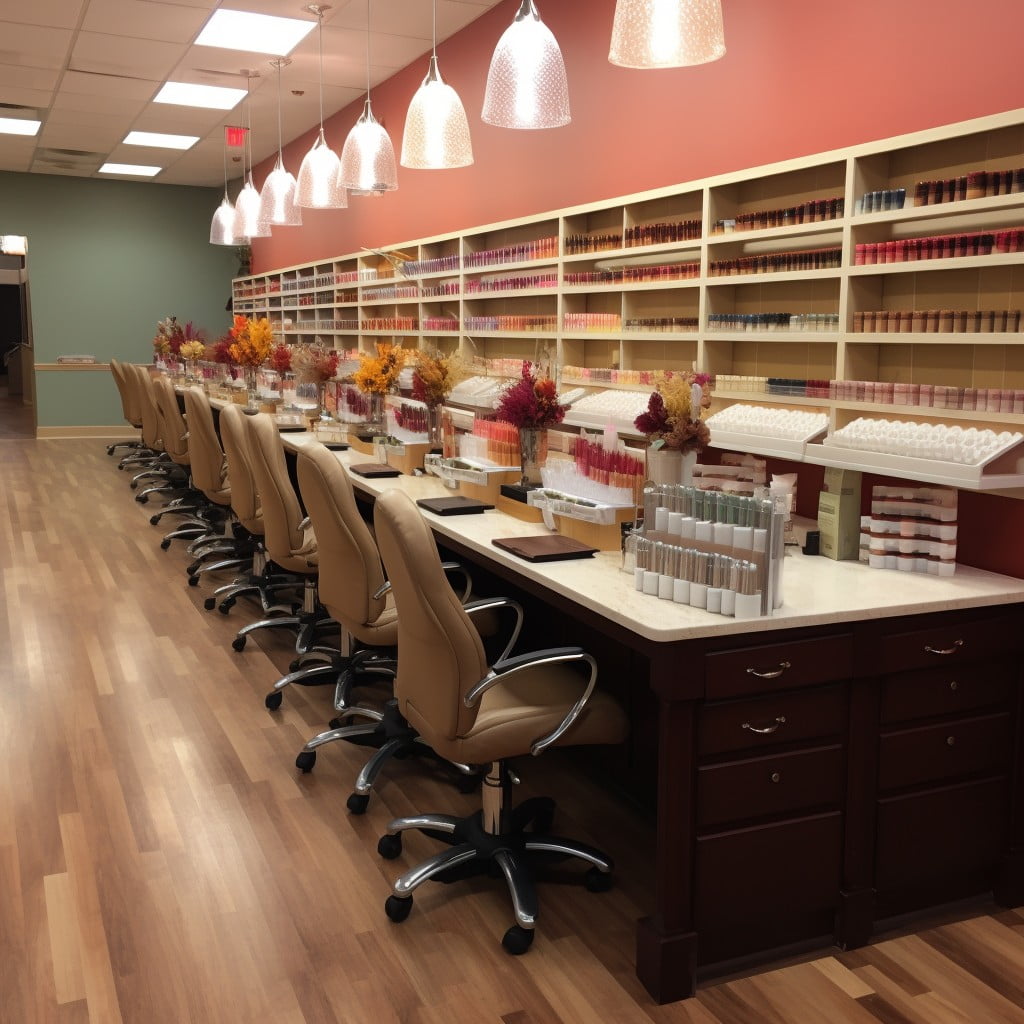 A well-chosen palette of nail colors serves as a visual expression of your salon's character, helping to define and differentiate it from the competition. It can chiefly influence a customer's judgment about your salon's professionalism, cleanliness, and overall aesthetics.
1. Atmosphere: Certain colors can create a soothing atmosphere, enhancing customer satisfaction.
2. Brand Image: Coordinating your color palette with your salon's branding generates consistency, driving recognition.
3. Style Statement: Quirky nail colors can highlight your salon's uniqueness, appealing to a hip, fashion-forward clientele.
4. Seasonal Trends: Keeping up-to-date with seasonal color trends displays your nail salon's relevance and trendiness.
Selecting your suite of salon nail colors with these principles in mind can effectively elevate your salon services.
Understanding the Effects of Bad Nail Salon Colors
Selecting the wrong nail color can result in an unappealing aesthetic look, often clashing with the overall style or outfit. Let's consider a few implications of such color oversights.
Harsh contrast: Dark, bold colors can sometimes create a stark contrast with lighter skin tones, causing hands to appear washed out or pale.
Overpowering ensembles: Loud and vibrant hues might outshine an otherwise nuanced outfit, attracting unwanted attention to nails instead of the overall attire.
Unsuitable for occasions: Certain shades, particularly neon and glitter, may not be suitable or professional for formal occasions and can create the wrong impression.
Displaying discoloration: Light pastel shades, particularly whites, can sometimes magnify the appearance of yellow-stained nails, an oft-ignored facet of many nail health considerations.
Suggestion of poor maintenance: Chipped or faded dark polishes can give the impression of poor personal grooming or care.
Remember to make an informed and astute color choice which harmonizes with your skin tone, outfit, and the event you're dressing for. Keep these points in mind to avoid falling into the trap of bad nail salon colors.
Avoiding Dark Colors: What Makes a Nail Color Good or Bad
When choosing nail colors, it's essential to consider the impression that particular shades may give off. Dark colors, while oozing a sense of sophistication, run the risk of overshadowing delicate, minimalistic designs, and can appear severe if not paired with the right outfit or occasion.
1. Limiting Designs: Dark hues often mask intricate details of more complex nail art, reducing their visual impact and appeal.
2. Perception of Size: Dark polish tends to make nails appear smaller and shorter, not an ideal choice for those with already tiny nail beds.
3. Inappropriate in Certain Contexts: They may not always fit every occasion or season; brighter, lighter hues are sometimes preferred for a more cheerful, warm-weather vibe.
4. Chipping Visibility: Any chips or damage to your nail polish are far more visible with darker shades, necessitating more frequent touch-ups.
Beware of Blues: The Good and Bad About It in Nail Color Trends
Venturing into the realm of blue hues can be a daring move. While a crisp, bright cobalt can bring an alluring pop to your salon, darker shades like navy or Prussian blue may create a gloomy ambiance, potentially discouraging customers. Here are some tips to maintain balance:
1. Incorporate Only Splashes: Avoid engulfing the entire salon in a sea of blue. Use it sparingly and strategically, as a contrast or highlight.
2. Pair With Lighter Tones: Combine it with white or other light colors to offset its potential overwhelming effect while maintaining its elegance.
3. Be Careful With Lighting: Blue shades affect the perception of lighting, causing the salon to look darker. Ensure to have enough natural and artificial light to counteract this.
4. Choose Suitable Shades: Not all blues are cold and stern. Explore softer versions like powder blue or cornflower, known to evoke calmness and tranquillity.
Effectively using blue in your salon can make it stand out and simultaneously provide a tranquil and confident atmosphere, if done correctly.
The Role of Skin Undertone in Choice of Nail Colors
Identifying one's skin undertone is key in selecting colors that harmonize naturally with your complexion. Generally, skin undertones fall under three main categories; cool, warm, or neutral.
Cool undertones have a blue or pink hue, thus benefiting from classic reds, deep purples, or navy blues. These colors contrast beautifully against the skin, giving it a vibrant look.
Warm undertones, on the other hand, bear a yellow or golden tone. Here, earthy hues such as peaches, burning oranges, or even warm browns would best compliment the skin, adding a healthy glow to the overall appearance.
As for individuals with neutral undertones, they have equal amounts of cool and warm hues. Thus, enabling them to use the widest range of colors. Their color choices range from pinks, to reds, to blues, and even greens. The key is maintaining balance and not going overly vibrant or dull.
It's important to remember that these are just guidelines. The most essential thing is for the nail color to mirror your unique personality and style. Experiment and have fun with different shades to find what you like best.
The Impact of Olive, Cool and Warm Undertones On Nail Color Choices
Olive undertones flourish with vibrant shades of pink or deep, rich reds. However, steering clear of too light or yellow-based colors maintains a radiant look, as they can make skin appear washed out.
For cool undertones, nothing works better than a classic, ruby red or some variations of the shade. Contrarily, orange-based red or any other extremely warm tones may create a disparate look.
Individuals with warm undertones look best with colours like deep, rusty red, or warm-toned neutrals. It's advisable to avoid excessively blue-toned colors, as they could clash with the natural warmth.
Indeed, comprehending undertones is crucial for striking balance and elevating the overall appearance of your hands. It allows nail salon professionals to make their clients feel special by expertly customising their manicures to their unique elements.
The key is to experiment within these borders and identify what works best for you or your client. Never shy away from stepping outside the conventional zone, and most importantly, enjoy the process!
Reliable Neutrals: The Power of Nude Nail Color
Variations of beige and brown, often referred to as nudes, are popular among nail salon clients. These hues are subtle yet chic, ideal for creating a professional or polished look. Plus, they pair well with virtually any outfit.
Nude shades are especially valued because they're forgiving, masking minor chips or smudges, unlike more ostentatious colors that can highlight these imperfections.
Always consider the client's skin tone when selecting a nude shade. A rule of thumb: the nail color should not exactly match the skin, but rather complement it. For darker complexions, go for rich chocolates or plum-based neutrals. Meanwhile, light to medium skin tones can opt for soft beiges and peaches.
One more thing worth noting, matte or glossy top coats can significantly impact the finishing look. Matte offers an understated elegance while glossy adds an appealing shine. Therefore, it's crucial to keep a variety of nude shades and finishes in your salon to cater to a diverse clientele's preferences.
Shimmer Shades: Nail Color Ideas to Upgrade Your Look
Offering a variety of aesthetic effects, shimmer shades provide an instant upgrade to any look. These dazzling colors immediately capture attention, but still allow a level of versatility for day-to-day wear.
1. Enhances Visual Interest: The glittery particles in shimmer shades beautifully capture light and demand notice without being overpowering, subtly enhancing your client's look.
2. Universal Appeal: These shades work well with a variety of skin tones. From soft champagne to sparkling berry hues, picking the right shimmer shade can complement the client's features and personal style.
3. Seasonal Adaptability: Shimmer shades effortlessly adapt to changes in season and occasion. Light pastel hues with silver undertones suit spring or summer, while warmer shades with gold elements perfectly capture autumn and winter moods.
4. Versatility: These shades align well with various nail lengths and shapes. Whether your client prefers short, neat nails or long, elegant forms, shimmer shades provide the desired sparkle.
In order to achieve best results, it is important to select quality products from reputable brands. High-quality shimmer varnishes offer a smooth application, balanced distribution of glitter, and long-lasting finish, maintaining that desirable sparkly effect for a lasting impression.
Good Nail Salon Colors Vs Bad Nail Salon Colors: A Comparison
When comparing optimal nail salon colors to those that might not be as flattering, it's essential to take into consideration not just the color choice, but also the tone and finish.
1. Colors that complement the client's skin undertones generally make excellent choices. For instance, warm undertones do well with reds, corals, and golds, while cool undertones shine with blues, purples, and silvers.
2. The finish can also make or break a nail color. Glossy and metallic finishes can add an extra sparkle and are generally attractive on most skin tones. Matte finish, though popular, can look flat and dull if not chosen wisely.
3. On the other hand, extremely bright, neon hues could potentially come across as tacky or overwhelming, and might not be flattering on most skin tones.
4. Colors that are too dark, especially without the necessary maintenance, could reveal chips and cracks easily.
5. The exception to the dark color rule might be a classic, well-maintained black, which can be edgy and sophisticated if kept in perfect condition.
Remember, the overall goal is harmonizing the choice of nail color with the client's skin tone, enhancing their natural beauty, and keeping in line with their personal style preferences.
Best Nail Varnish Brands for Optimal Color Choices
Several notable brands stand out when considering optimal nail color choices. A fan-favorite is OPI, known for their long-lasting formulas and extensive shade range. Essie, revered for its innovative color variety that caters to different skin undertones, is another great option.
China Glaze caters to those who prefer bold and vibrant hues, while Zoya shines for their eco-friendly selection, offering over 400 shades free of harmful chemicals. For a luxurious touch, Chanel Le Vernis is worth the splurge, boasting unique, trend-setting colors.
Sally Hansen's Miracle Gel caters to those seeking the gel finish without frequent salon visits. For nail varnish with skincare benefits, look to Nails Inc NailKale, formulated with kale extract to nourish nails while providing rich color.
Regardless of the brand you choose, remember to take your skin undertone into account. An optimal color choice enhances your natural coloring and perfectly complements your preferred style. Make your decision based on the brand's color range, formula, price, and environmental ethos that align most with your values.
FAQ
How do I choose a nail salon color?
When choosing a nail salon color, consider your phototype including elements like skin shade, hair color, and eye color, and try to avoid colors that are too close to your skin tone, taking into account the specific category your features align with: Summer, Autumn, Winter, or Spring.
Are certain nail colors unprofessional?
Yes, certain non-natural nail colors such as neon pink, green, and blue are often considered unprofessional, while more subtle shades like taupe, burgundy, coral, soft/light pink, wine, and caramel are deemed more appropriate for a professional setting.
What is the most flattering nail colors?
The most flattering nail colors depend upon the individual's skin tone: light shades of pink, beige, and white for fair complexion; colors in the green family for olive skin tones; and shades of brown, black, or deep red for darker skin.
How does the color scheme of a nail salon influence client perceptions?
The color scheme of a nail salon significantly influences client perceptions by setting the mood and ambiance, thus, affecting their overall satisfaction and likelihood to return.
Which nail colors are best-suited to the work environment?
Neutral shades like beige, pink, and light gray tend to be most suitable for a professional work environment.
What is the trendiest nail color palette for the current season?
The trendiest nail color palette for the current season is pastel shades including soft pink, mint green, and lavender.
Get the Complete Checklist of Opening Your Own Nail Salon!