Exploring the latest trends in nail salon businesses can provide valuable insights on how to stay competitive and meet customer expectations.
In the dynamic world of the nail salon industry, staying updated with the latest trends is crucial for success. From emerging nail art techniques to innovative marketing strategies, and the increasing focus on hygiene and safety, this article delves into the most significant trends shaping the nail salon business today.
With detailed insights, it's a comprehensive guide for those looking to stay ahead of the curve, ensuring your nail salon thrives in an ever-changing landscape. So, whether you're a seasoned salon owner or a budding entrepreneur, this article is your go-to resource for understanding and implementing the hottest trends in the nail salon business.
Key takeaways:
Leading nail salon companies: Regis Corporation, Elegant Nails, Milano Nail Spa, Profilo Day Spa, Fiina Nail Lounge
Key service insights: Understand client needs, offer extensive services, recruit skilled staff, use quality products, provide regular training, prioritize health and safety, innovate
Age group dynamics: Millennials and Gen-Zers prefer bold designs, Gen-X and Baby Boomers prefer classic styles
Regional preferences: Affluent areas prefer luxury services, cost-sensitive areas prefer affordable treatments, climate and cultural influences impact preferences
Upcoming nail trends: Metallic hues, abstract art, mixed media, eco-friendly alternatives, textured polish.
Nail Salon Business Key Companies & Market Share Insights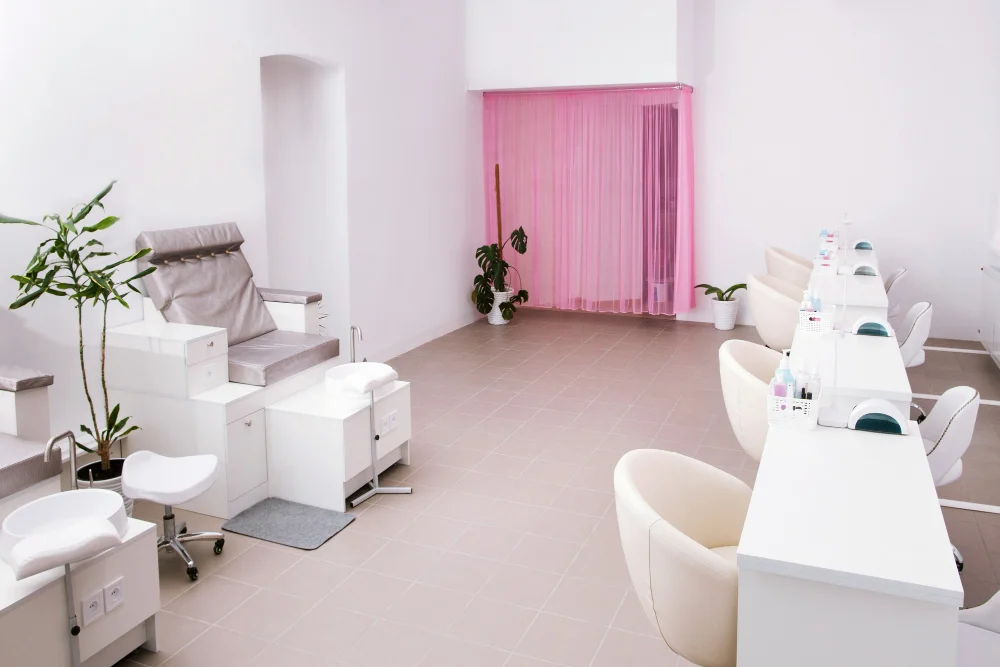 Leading names in the industry include Regis Corporation, Elegant Nails, Milano Nail Spa, Profilo Day Spa, and Fiina Nail Lounge. These businesses stand out due to their quality service, innovation, and business management strategies.
Dominating regional markets, they capture significant shares through a blend of factors: their ability to stay on top of trends, the training and skill of their technicians, and their commitment to hygiene.
Additionally, many of these top companies have mastered ways to enhance customer experience, including offering varied services, creating comfortable ambiance, and prioritizing customer satisfaction.
Their market share is also a reflection of strategic location selection and aggressive marketing tactics.
Service Insights for Robust Nail Salon Functionality
To ensure your nail salon's successful operation, prioritizing quality service delivery is a must. Here are a few key insights:
1. Understand Client Needs: This involves actively listening to clients, taking their preferences and needs into account.
2. Extensive Range of Services: Offering a wide variety of treatments, such as manicures, pedicures, and nail art, attracts a broader client base.
3. Skilled Staff: Recruit technically proficient and customer-friendly staff members for better service delivery.
4. Quality Products: Usage of top-quality nail care products enhances customer satisfaction and ensures repeat business.
5. Regular Training: Arrange for consistent training schedules for staff to stay updated with the latest nail care techniques and trends.
6. Health and Safety: Prioritize client's health and safety by maintaining clean facilities and following all sanitation guidelines.
7. Innovate: Experiment with new techniques and styles. Staying innovative will keep clients interested and assure them that your salon stays up-to-date with the latest trends.
Remember, a robust service model catering to these aspects will increase customer loyalty and ensure your salon's longevity in a highly competitive market.
Age Group Dynamics Among Nail Salon Patrons
Different age groups show varying preferences when it comes to nail salon services. The younger clientele, specifically millennials and Gen-Zers, often seek innovative, bold, and trendsetting designs, reflective of their individual personality and style. They are also the groups that are more likely to gravitate towards environmentally-friendly and vegan products.
On the other hand, Gen-X and Baby Boomers often opt for classic, timeless styles with a significant inclination towards wellness-infused experiences such as manicures with essential oils or nail health-focused treatments. Understanding these dynamics allows business owners to tailor offerings specific to the age groups frequenting their salons, enhancing customer satisfaction rates.
Regional Distribution and Preferences for Nail Salon Market
It's important to understand that customer preferences can vary greatly depending on the region. For instance, in more affluent areas, salons offering high-end, luxury services may thrive. Conversely, in regions with a cost-sensitive demographic, affordable yet quality treatments are more likely to be in demand.
Climate also heavily impacts the nail salon market. In warmer areas, where open-toed shoes are frequently worn, pedicures might drive the lion's share of business. Cooler climates, on the other hand, may gravitate towards long-lasting, chip-resistant manicures.
Lastly, cultural influences often shape the popularity of specific nail designs and colors. Regions with vibrant, colorful traditions might prefer bold and artistic nail designs, whereas areas with a minimalist aesthetic could lean towards subtle, neutral tones.
Therefore, to maximize success, salon owners must tailor their services to the preferences and needs of the local market.
Upcoming Nail Trends for Salon Business Strategies
Imprint a daring signature on your clients' looks as you ride on the wave of upcoming nail trends. Metallic hues and abstract art are making ripples among style-conscious clients. Embrace these trends with unique and customizable services.
1. Metallic Hues: Gold, silver, and bronze applications are on the rise. Beyond traditional applications, consider training staff in applying these hues in gradient, ombre, or patterned designs to add a twist.
2. Abstract Art: Let creativity flow. Discard the old concepts of symmetry and uniformity and usher in abstract art designs that appeal to clients with an edgy taste.
3. Mixed Media: Combine textures and colors. From blocks and stripes to rhinestones and 3D embellishments, enhance your services with a fresh blend of mixed media elements.
4. Eco-friendly Alternatives: As the world moves towards sustainability, stay ahead by offering environment-friendly nail products and services.
5. Textured Polish: From matte to crystal gel, explore a wide selection of textured polishes that cater to clients seeking a change from the usual gloss finish.
Utilize these trends as anchors for new business strategies. Develop new services or packages around them. Collaborate with nail artists for limited edition designs. Conduct workshops for clients interested in the art behind their nail designs. Each trend presents new opportunities for growth and innovation within your nail salon business.
Color Trends Influencing the Nail Salon Industry
In terms of shade selection, cooler undertones are gaining popularity in recent times. Cool grays, elegance-inspired blues, and blush pinks are among the most desired. Yet, the classics—vivid reds, dark browns, and French manicure—retain their steady clients.
Glitter is making a big comeback, too. From subtle shimmer to overpowering sparkle, customers are increasingly opting for this festive touch. However, it's the matte finish that is skyrocketing in popularity, thanks to its versatility and understated elegance.
Neon hues are shining bright on the trend radar, predominantly during spring and summer seasons. These bold and vibrant shades make a great choice for those wanting a standout manicure.
Embrace these trends to boost salon appointments, while ensuring you cater to individual customer preferences by offering a wide array of color choices. High-quality polish, coupled with professional service, can establish your salon as a trusted spot for all nail trends.
Role of Embellishments in Nail Salon Aesthetics
Embellishments have graduated from being mere accents to chief transaction drivers in the nail salon industry. They bring an additional dimension of style and sophistication, allowing customers to express their individuality.
1. Customization: Embellishments allow customers to add a personal touch to their manicures. Rhinestones, glitters, decals, or hand-painted art are just a few examples.
2. Increased Revenue: Offering a variety of embellishments increases service options, and subsequently, the potential for higher earnings.
3. Catching Up with Trends: Incorporating embellishments in nail care services enables salons to stand neck-to-neck with current fashion trends, thereby increasing their relevance and appeal.
4. Exciting Experience: The act of choosing and applying embellishments adds an element of joy to the salon experience, further promoting customer loyalty and repeat visits.
In essence, the inclusion of embellishments in nail aesthetics is no longer an option, but a necessity for growth and customer retention. The right mix of quality, variety and creativity can give any nail salon a competitive edge.
Impact of DIY Market On Nail Salon Industry
While the DIY market offers convenient options for home-based nail care, its growth also elucidates a shift in consumer preferences. Here are some key points to understand its effect on the nail salon sector:
1. Increased health consciousness: Consumers steer towards non-toxic, organic nail products found in the DIY market, prompting salons to adapt their services and products accordingly.
2. Creative control: DIY nail kits provide customers with the ease to experiment with designs and techniques on their own, pushing salons to offer myriad and unique nail art offerings for distinctive appeal.
3. Home convenience: The comfort of fixing nails at home can pose as a challenge for brick-and-mortar salons. However, it also inspires innovation in salons, translating into express services, mobile salon options, or virtual consultations.
4. Cost-effectiveness: Although the upfront cost of DIY nail kits might be high, they may pay off in the long run as opposed to frequent salon visits. This can inspire salons to devise loyalty programs, package deals, or premium services to retain customers.
Remember, the DIY nail trend is not a threat, but a significant industry shift, provoking salon owners to re-strategize for sustaining market presence and profitability.
Current Status and Future Outlook of Nail Industry Market
The global nail salon industry noted a minor slump in 2020 due to the COVID-19 pandemic, but it is forecast to rebound in coming years. That resilience showcases a strong and adaptable sector.
Digitalization continues to revolutionize this industry with online booking and non-contact payments becoming standard practice. A trend of shifting towards eco-friendly, organic, and non-toxic products is observable, becoming a major influencer in product choices and procurement strategies by businesses.
Market growth is not just limited to urban regions; rural areas are also observing an increase in demand for these services. Surveys suggest that there will be a heightened emphasis on hygiene and sanitation measures, accompanied by a move to smaller, private service areas to ensure customer safety.
New avenues such as mobile nail salons are starting to find footing. Despite challenges, the industry's future looks punctuated by innovation, health consciousness, and a robust growth trajectory.
Motivating Factors Behind the Growth of Nail Salon Market
First and foremost, advancements in nail care technology have redefined the traditional salon experience, leading to an expansion of market growth. Technological progression include nail enhancements sophistication and high-end treatment services which are increasingly becoming accessible to the average consumer.
Secondly, customers are seeking more than just basic nail maintenance. The desire for self-expression and beauty fashion has led to the popularization of intricate nail designs and appliques. The surge in consumer interest for bespoke manicures has prompted robust market growth.
Lastly, a rise in disposable income and overall health and wellness trends, have led to an increased demand for professional nail care services. As more individuals are committed to personal grooming, nail salons services particularly treatments that promote nail health, are seen as a prerequisite, thus driving market expansion.
Nail Salon Market Performance and Leading Regions
The United States remains the market leader, largely driven by increased aesthetic consciousness and higher disposable income. In 2019, it accounted for a market share of 35.7%, with California serving as the forerunner, boasting the highest number of nail salons.
The Asia Pacific is quickly catching up, exhibiting significant growth. The surge is primarily credited to the expanding middle class, coupled with their rising spending power and amplified demand for high-quality nail care services.
Europe follows suit, with the UK and Germany at the forefront. The demand in these regions emanates from their burgeoning fashion industries and growing interest in personal grooming.
In Latin America, Brazil is fast-emerging as a robust nail salon market, driven by the growing trend of nail decoration and enhanced focus on personal appearance. Not far behind are Middle Eastern countries, where nail salons are aligning with their local culture and customs, further fueling their market growth.
Australia is also witnessing substantial market growth, owing to the amplified demand for advanced and diverse nail services. These garner considerable support from their thriving tourism industry, propelling the need for nail salons to offer avant-garde and versatile options.
This geographical variance necessitates personalized strategies for each region, ensuring market growth and retention of customers. Understanding regional preferences is imperative to formulate efficient business models for nail salons.
How to Navigate Through Global Nail Salon Market Segmentation
Understanding the segmentation of the global nail salon market is crucial for your business strategy. To start with, consider the type of services offered. Salons typically provide a range of services from basic manicures and pedicures to advanced treatments like nail art and embellishments. Identify where your salon fits in and specialize to set you apart.
Next, target audience plays a huge role in segmentation. Customers differ by age, gender, lifestyle and income. Identify who your ideal customer is and tailor your services to their needs and preferences.
Location is another vital factor. The nail salon industry sees a lot of variations regionally, influenced by local cultural and fashion trends. Understanding these regional preferences can help customize your service offerings for a local market.
Lastly, consider the price segmentation. Options range from budget-friendly solutions to luxury experiences. Positioning your salon in the correct price band is essential to match your customer demographics and services on offer.
Grasping global nail salon market segmentation can guide your business to success by allowing you to fine tune your offerings, enhance customer satisfaction, and increase profitability.
Identifying the Largest Manufacturers in Nail Salon Market Worldwide
The nail salon business is dominated by manufacturers who have established a global presence, supplying essential materials like nail polishes, equipment, and hygiene products. Companies such as OPI, Essie, Sally Hansen, and CND reposition themselves as trendsetters due to the consistent quality and wide product range they provide, making them a preference for many salons.
Asia-Pacific manufacturers like Missha and Innisfree are also gaining traction due to their innovative and pocket-friendly products. By keeping track of these top players' products and ongoing innovations, salon owners can ensure they stay updated and offer the best services to their clients. Remember, what sets you apart is often your range and quality of products.
Other significant manufacturers to consider are China Glaze, Zoya, and Julep. These companies have carved out a niche for eco-friendliness, providing products free from harmful chemicals. Keeping an eye on their product range can attract a specific clientele looking for 'cleaner' nail care alternatives.
One should also not discount the importance of equipment manufacturers like Belava, Collins, Continuum, and Gharieni, who offer a range of salon chairs, pedicure spas, and ergonomic equipment.
Exploring the Service Variety in Nail Salon Business
When expanding your nail salon business, service variety plays a crucial role in capturing a broader clientele. From basic manicures and pedicures to intricate nail art and embellishment services, having a range of offerings can be a key differentiator.
1. Basic Services: Including manicures and pedicures, buffing and shaping, and cuticle care. Essential yet popular, they form the core of your menu.
2. Advanced Techniques: Services such as acrylics, gels, or dip powder nails attract those seeking a durable, long-lasting solution.
3. Nail Art and Embellishments: From minimalist designs to rhinestone studded creations, these can be a lucrative addition, enticing the fashion-forward crowd.
4. Specialized Treatments: Incorporating paraffin wax treatments or offering nail strengthening services might appeal to customers looking for extra care.
5. Eco-friendly Services: With a rise in environmental consciousness, offering vegan or eco-friendly nail services can attract a niche market.
Remember diversification should be balanced with expertise. Quality over quantity will always prevail in customer satisfaction and retention.
FAQ
Is the nail industry growing?
Yes, the nail industry is projected to expand as the global nail care products market, which was valued at USD 19.10 billion in 2021, is anticipated to grow at a CAGR of 5.27% over the forecast period.
How profitable is nail salon business?
The profitability of a nail salon business is largely influenced by factors like location, service offerings, and customer base, but a well-established salon offering additional services can potentially earn up to $200,000 annually.
What is the failure rate of nail salons?
The failure rate of nail salons is approximately 80% within the first 18 months of operation.
What marketing strategies are most effective for attracting customers to a nail salon?
Effective marketing strategies for attracting customers to a nail salon include social media advertising, offering loyalty programs, sending out newsletters, collaborating with local businesses, and hosting special events.
How significant is the impact of location on a nail salon's success?
The location of a nail salon significantly influences its success, as it directly affects visibility, accessibility, and the demographic of potential customers.
What unique challenges are faced by nail salon owners during their first year of operation?
In their first year of operation, nail salon owners often grapple with challenges related to developing a strong customer base, securing skilled staff, navigating industry regulations, and managing overhead costs.
Get the Complete Checklist of Opening Your Own Nail Salon!